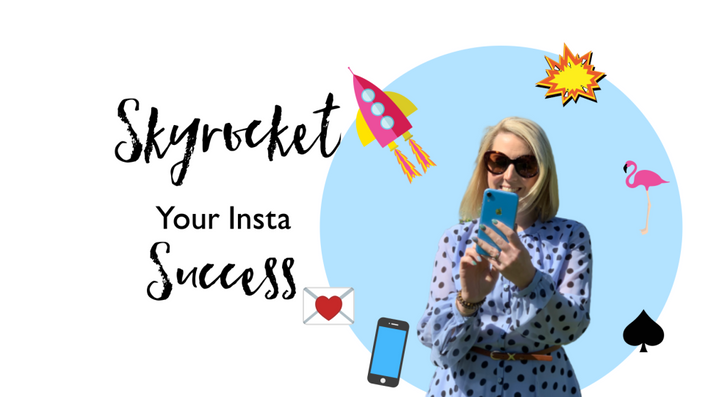 Skyrocket Your Insta Stories
Everything you need to know about making money through your Insta Stories
JOIN NOW 🚀
Instagram Stories are used by over 500 million users every single day!

Whether you are a service based business or a product based business you can sell through your Insta Stories in an authentic way.


"I had my first ever product sale after completed Skyrocket Your Insta Success!
I now feel so much more confident posting about products in my own way and because I do this a very old friend randomly contacted me and said she had been watching my stories and could she order!
I feel so much more strategic and in control of my stories now"

-Louise Charlesworth


Do you feel frustrated that your business isn't growing as fast as you would like it to?

Clueless on what to post on Instagram Stories?

Imposter Syndrome that leaves you feeling that you aren't good enough?
Don't have a strategy on what you are posting on Instagram Stories and it's just random photos?
It's time to position yourself as an authority in your niche using Instagram Stories 🙋🏼‍♀️

If you feel like your content is boring

If you forget to post on Stories throughout the day
No one is interacting or taking action from your Stories
If you have zero consistency because you waste so much time wondering what to post
INTRODUCING 👇🏻
Self paced course that enable you to:

Create constant content that your ideal client will love and engage with 💗
Deepen your relationship with your community 🥰
Increase the number of DMs you receive and boost your sales 📈



WHAT IS INCLUDED IN SKYROCKET YOUR INSTA STORIES? 🚀

Introduction Module 💫
Showing up as the best you - Understand the mindset shifts you need to get out of your own way and reach your next level

PLUS - A basic demo on how to use the different features within Instagram Stories



Module 1 - The Foundations 👷‍♀️
Optimising your Instagram profile - set up your insta profile to attract your ideal clients
How to use highlights to raise your profile and authority
Discover your dream client and learn how to easily attract them

Module 2 - Cracking Content 🙌🏻
Create content that boosts your engagement and has your notifications pinging

Understand how to warm up cold leads so people buy from you

Understand what different type of content to post

Copywriting formula to attract your ideal clients

Module 3 - Sizzling Strategies 🔥
Why you need a sizzling strategy for your Stories

Learn how to create a strategy that works for you business

Learn how to create epic Insta Stories that will get you featured

Module 4 - Skyrocket your Visibility 🚀

In this module I will be showing you how to use all the different functionalities of Instagram Stories effectively so you can get more visibility.
BONUS MODULE 🤩
In this module I will be sharing my go to apps and software that I use to make my Stories stand out even more and get more visibility.
Plus........
Your own private Facebook Group 👯‍♀️
You will get all the help, support and feedback from me
"Before Skyrocket your Insta Success I had been on Instagram for 4 years and hadn't made any sales. Three weeks into the course, I sold 28 products through my Stories and made the course investment back"
Janet - Smart Dogs Boutique
WHO IS SKYROCKET YOUR INSTA SUCCESS FOR? ✅
Women business owners who:

Have a service based or product based business
Want to build a community and have a deeper connection with their audience
Want to show up consistently on Instagram Stories
Waste too much time wondering what to post on Instagram Stories
Want a strategic approach on what to post on Instagram Stories



WHO IS SKYROCKET YOUR INSTA SUCCESS NOT FOR? ❌

If you want a quick fix and think this is a fast way to make money

If you are not committed to putting in the training to learn. Social media is a long game

If you are not willing to put in the time

If you don't see the value of creating a community or building relationhips with your audience

Someone who has a hobby and not a business owner
HOW WILL SKYROCKET YOUR INSTA SUCCESS TRANSFORM YOUR BUSINESS? ✨


You'll go from feeling frustrated, clueless, overwhelmed or confused about what to post on your Stories to feeling confident what to post and when.


You'll go from posting random photos that provide zero value to your audience to posting Stories that people enjoy watching.


You will notice people engaging with you and sending you DMs to buy your products/service or to invite you to be the guest expert. This could be for a podcast, magazine, membership site, workshop (all opportunities that I have received via my DMs).


"Since taking Skyrocket your Insta Success my organic followers has increased by almost 50 after following your bio advice plus daily new followers.
The visits to my website have increased from Instagram by 10% in 1st 2 weeks, 3rd week 6%
My Instagram Stories have directly led to 3 client discovery calls of which 2 have booked coaching. This paid for the course by week 3."

Katharine Miller


Frequently Asked Questions
When does the course start and finish?
You can start and finish the course in your own time and at your own pace. There is no start or finish date.
How long do I have access to the course?
After enrolling, you have unlimited access to this course. I can't say you will have lifetime access as the information in the course will be dated. But at least a year, which include free updates to the course.
What if I am unhappy with the course?
I would never want you to be unhappy! Please email me at.
[email protected]
if you have any problems or not happy with the course.